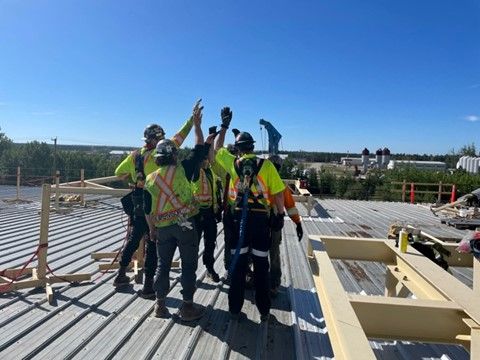 Current Job Opportunities - View and apply to all current job opportunities. Check back frequently as we post jobs here whenever they become available.
General Consideration - Submit your resume for general consideration to resumes@cobalt-group.ca
Working For Cobalt Group
Cobalt Group is your industrial contractor of choice; we set the benchmark for service excellence. Through value driven relationships and innovation, we meet our customers individual needs with their goals and sustainability at the forefront. Our work consistently exemplifies the highest standard for safety, communication, and quality.
We are seeking interest from persons looking for an exciting and rewarding career in positions that provide exposure to new environments, challenges, and opportunities.
Safety is an integral part of our company's operating philosophy and is a key component of our overall success. We are committed to the safety and well-being of our employees.
We are committed to working with, investing in and developing individuals who are driven to succeed in their chosen career. We also provide competitive living-out allowance and travel benefits.
FAQ
What type of company are you?
Cobalt Group is your industrial contractor of choice, delivering superior results that exceed expectations in areas of construction, fabrication, installation, piping and mechanical.
When would I see my pay cheque?
We do payroll on a bi-weekly basis and there will be a schedule attached to your hire package.
What tools are expected for a tradesperson to bring with them to work?
There is a basic tool list provided in your hire package for each trade. All trades are expected to have their own PPE (Personal Protection Equipment). All other tools will be provided at the job sites on a sign out basis.
What are you looking for in tradesperson?
We are seeking interested candidates looking for an exciting and rewarding career in positions that provide exposure to new environments, challenges and opportunities.
How do I know what my rate of pay would be?
Upon hire you will submit your trade certificates and any other certificates that would be relevant to your job. At that time the payroll department will access your qualifications and set a rate as per the company rate table.
How will I know when I would work?
All dispatching for jobs is done through email. In the email request, you will receive a pdf of a dispatch for a job. This pdf has all the information as to Worksite, travel (LOA) and Km rates, duration of job, and start dates. It will also hold any special information you will need to know for the work.
You are requested to answer Yes or No by return email to confirm the job request. We ask that you continually watch your email or have it directed to your phone, as it is first come first serve. If we haven't heard from you within 12 hours and there is still a spot open we will send a text message to your phone to remind you to look at your email. If we still do not hear a response you will be replaced with the next person available.
Sometimes our work is time sensitive, and is on short notice.
Will I lose future work if I say no?
No, we are aware that you might be working for several companies to make your ends meet. You will not be taken off the call list if you say no, but we do hope that you don't cancel on short notice when you have confirmed a job request. With that said, we do understand when it is beyond your control as life happens. We also from time to time might have a client cancel a job on us that has been dispatched for some time, and that is beyond our control.
Will you send an ROE to Service Canada when I have no work?
If you need an ROE because of shortage of work or you are going back to school, you must request it from the payroll deptartment each time.
How long does it take to get on fulltime?
Most of the work at Cobalt Group is short term, shutdown related. From time to time we may get a project that goes for a couple months, sometimes a year, even a day long or week long. Most trades that work in this type of industry will have several employers, and they move around from job to job.
Do you hire Apprentices?
Absolutely! When we hire an apprentice we are committing to train and develop them into a Tradesperson. In return, the apprentice will be completing projects, tasks and jobs that are critical to the success of our business. A certified journeyperson (or equivalent) will be responsible for your work-based training. Those mentors might change from time to time, to give you a full spectrum of learning.